百事可乐最近一定有一句"草泥马"不知道当不当讲。
前几天,这个饮料巨头风光发布了超模Kendall Jenner作为代言人的新一辑广告大片,顺着今年Super bowl的广告风气,狠狠地蹭了一回政治热点。不过……结果却收获了大量的负评。
这支广告来自百事可乐内部创意团队Creators League Studio创作,片中Kendall Jenner原本好好地拍摄性感时尚大片,但却无法对抗议者人群坐视不管,扯下金色假发,抹掉口红,帅气地冲进人群,加入了他们。
然后,全片的高潮来了,Kendall递了一瓶百事可乐给警察,警察喝下一口可乐后,狂欢开始了!!!抗议者也不抗议了,大家和乐融融地迎来了Happy Ending!(黑人问号?)
该广告一出,立刻在社交媒体上引发了争议,特别是Kendall Jenner将百事可乐递给警察的举动,让抗议者们觉得受到了伤害: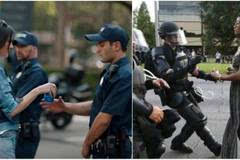 与抗议者站在对立面的警察接过可乐,似乎让抗议者们的胜利变得模凌两可。
这一瞬间,整个广告的立意变得模糊,并让一些受众感到不快。
最主要是因为。。。这一幕太像去年美国"黑人的生命平等运动"中的一幕了。。。
---
Twitter上网友反映也是亮了,大概是说。。。百事可乐可以解决所有种族问题。
"Kendall Jenner用了一瓶百事可乐就解决的警察暴力问题,下次警察想打你的时候记得立刻他们一瓶百事。"
"警察叔叔等一下,我兜里有一瓶百事。"
"喂,Kendall,你快带一瓶百事过来,警察开始撒野了。"
可口可乐现在应该在笑吧。。。
所以说,政治热点不是说蹭就蹭的,发生误会可就尴尬啦!
Maybe Pepsi should have stuck with soda can emojis after all.
Shortly after the soft drink giant released its "Live For Now Moments Anthem" commercial starring Kendall Jenner, the internet responded with resounding negativity.
In the two and a half minute ad, the supermodel is shown in the midst of a photo shoot while a protest takes over the nearby street. Kendall, intrigued by the marchers, removes a blond wig and wipes off  her dark lipstick to lead the pack approaching a line of police officers.
Jenner then hands a can of Pepsi to one officer as an apparent peace offering, who gladly cracks open the can and takes a sip. What follows is a celebration, with the protesters cheering and applauding the moment.
Kendall Jenner gives a Pepsi to a cop and rids the world of -isms. Y'all can go somewhere with this tone-deaf, shallow and over-produced ad. pic.twitter.com/CEr4cAw3Ld

— Taryn Finley (@_TARYNitUP) April 4, 2017
But for some, the ad came off widely insensitive and too forced, especially given the current political climate.
It didn't take long for Twitter users to draw comparisons between the frame of Kendall coming face-to-face with the officer and a famous, award-winning photograph taken during a Black Lives Matter protest.
Iesha Evans did it better. #PEPSI pic.twitter.com/ua1ZWQP7ke

— Geraldine (@everywhereist) April 4, 2017
How I imagine the @Pepsi executives right before they decided to make this ad with Kendall Jenner. pic.twitter.com/NcQIxHJVJq

— Zie (@ZieNYC) April 4, 2017
Some critics believe Pepsi trivialized the recent resurgence in public protests, while others are concerned with how rival Coca-Cola must be feeling right about now.
The Coca Cola marketing team after viewing the Kendall Jenner/Pepsi collab pic.twitter.com/SJYZkbR6hC

— Mike T (@majtague) April 4, 2017
Pepsi broke their silence about the backlash with the following statement, telling E! News, "This is a global ad that reflects people from different walks of life coming together in a spirit of harmony, and we think that's an important message to convey."